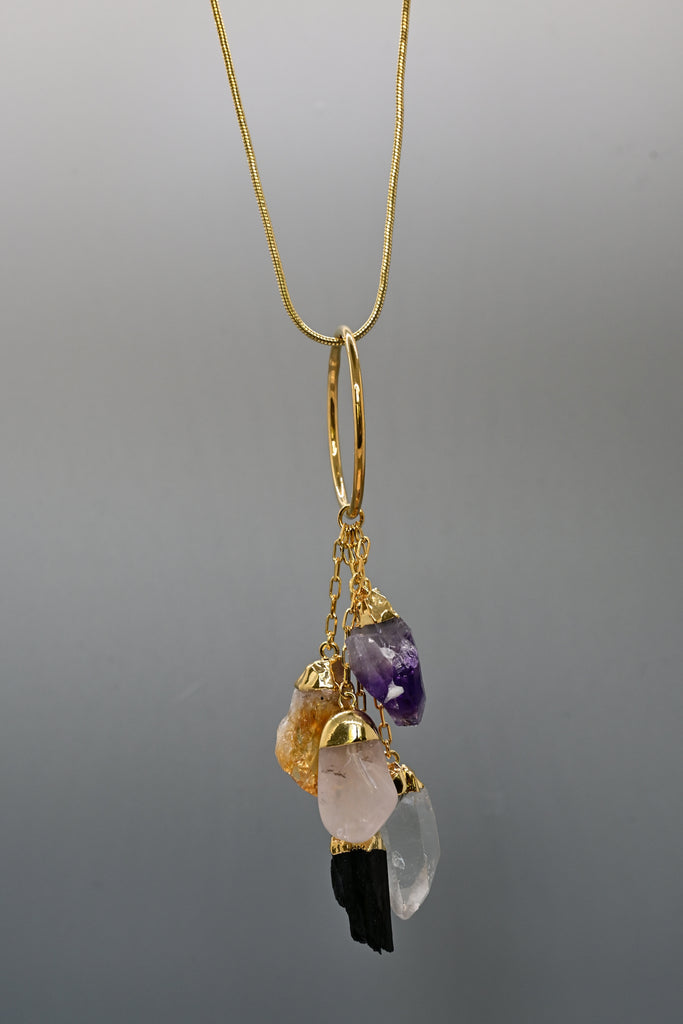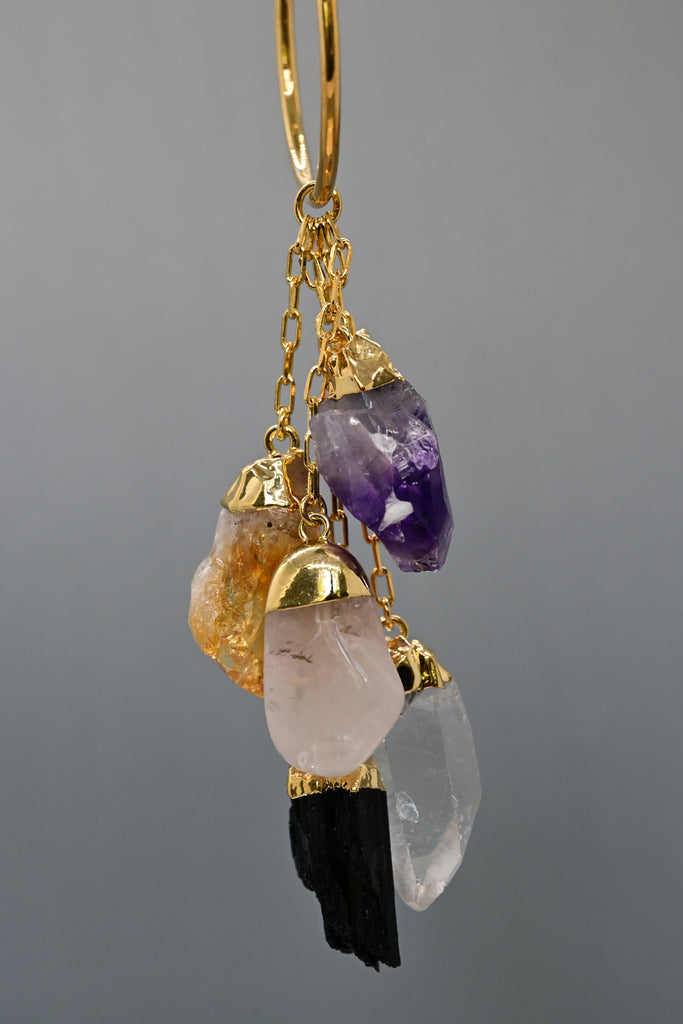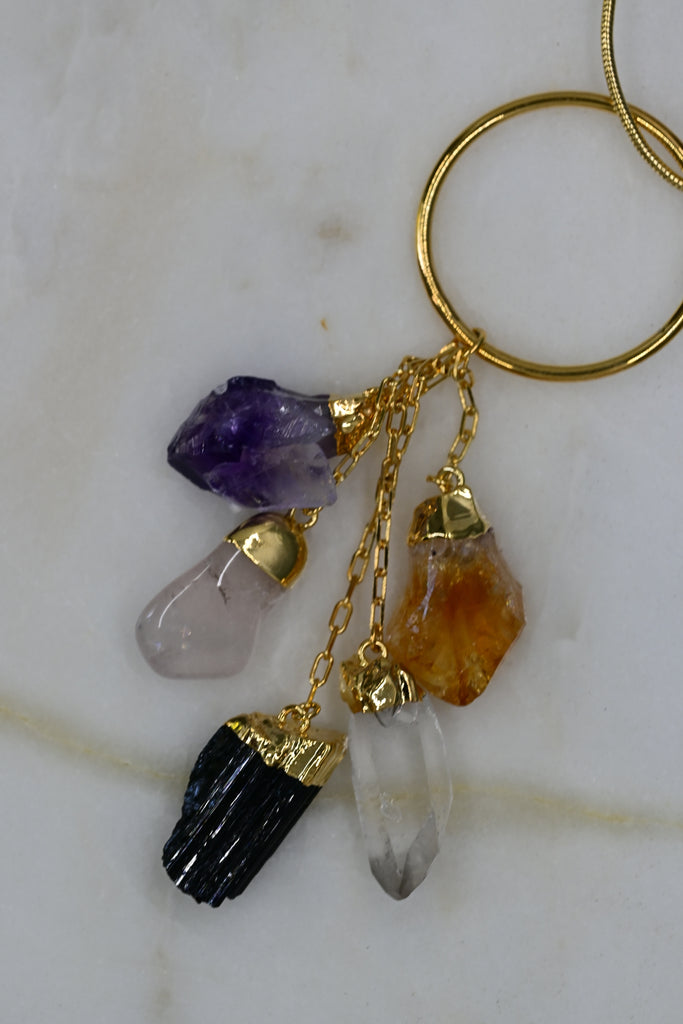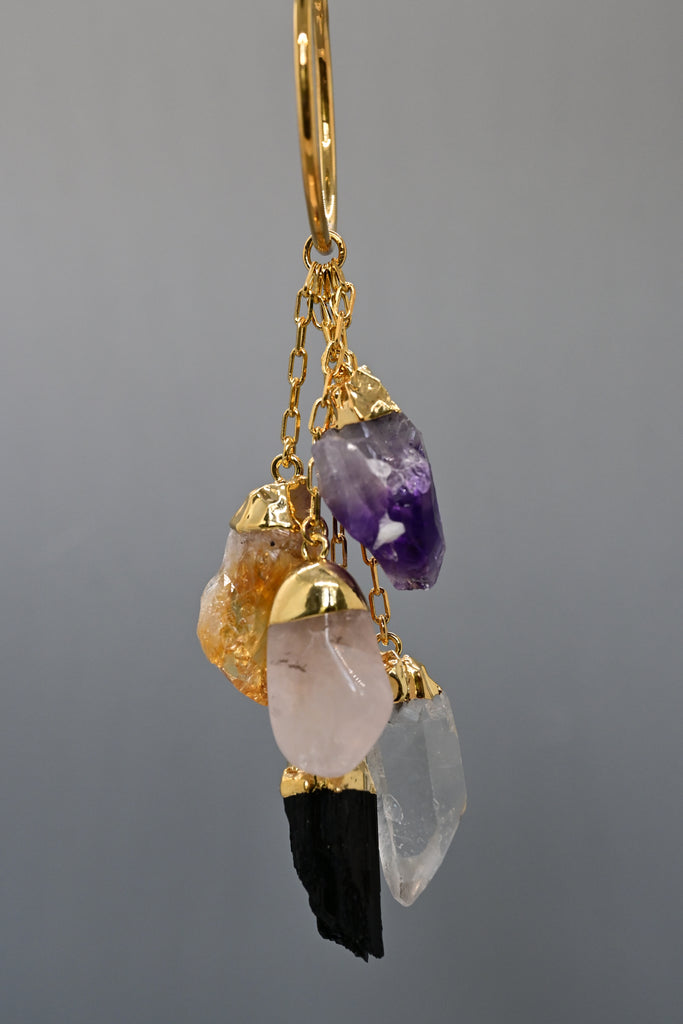 $111.00
$0.00
The Healer's Toolbox - Amethyst + Rose Quartz + Citrine + Tourmaline Quartz Cluster Necklace
The Healer's Toolbox necklace contains a combination of the Amethyst + Rose Quartz + Citrine + Tourmaline Quartz pendants on a gold plated 16 inch rope chain necklace. Extended by a gold plated hoop holding a cluster of pendants adding 4 more inches to make this a 20 In. necklace. This necklace rests on the solar plexus chakra
Amethyst radiates divine love. Amethyst has a great calming influence, which brings you feelings of emotional balance to help you stand strong and take action based on your higher guidance and spiritual understanding. This necklace has a chunky natural pendant stones of Amethyst and offers protective vibrations that help you activate an inner space of balance. 
Rose Quartz teaches unconditional love, infinite peace, and the true essence of love. Considered the most important stone for the Heart Chakra, this Rose Quartz pendant helps purify and soften one's heart center, the strongest generator of light within the body.
Citrine pendant radiates abundance, wealth, prosperity, and success. Citrine is a joyful stone with bright energy, which will light up many aspects of your life. It's a powerful cleanser and absorbs, transmutes, dissipates and grounds negative energy. 
Tourmaline is a stone of purification. It is associated with the root or base chakra, and is excellent for grounding excess energy. It is well known as a purifying stone that deflects and transforms negative energy, removing negativity from an individual or an environment. It is often used as an aura cleanser, and can help you attain higher levels of awareness. Carrying this stone can help clear energetic imbalances from your energy field. Black tourmaline can help rid you of negative thoughts, anxieties, anger and ideas of unworthiness. The purification through this stone is powerful.
It helps one: 

Amethyst

heal and balance out the energy of addiction and compulsive behavior

exude the energy of peace and well-being 

open up to the Divine in meditation

increase your spiritual connection

develop and tap into your intuition

protect you during spiritual and healing work
Rose Quartz
give and receive love - in balance
to accept deep inner healing and self-love
restore trust and harmony in relationships
to release negative energy by replacing it with loving vibrations.
Citrine
increase, magnify and clarify your personal power
open a clear energy flow in your Solar Plexus (3rd) Chakra
raise your self-esteem 
activate your energies of good fortune
bring energies of generosity
share your prosperity